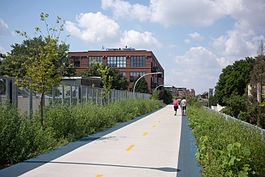 There has always been some discussions about the boundaries of Wicker Park/ Bucktown neighborhoods.
To quote the President of the Wicker Park Committee Teddy Varndell:
"The boundaries of Wicker Park, as relates to the Wicker Park Committee, are Bloomingdale to Division, Ashland to Western. And those are fairly historic boundaries, as well, although at one point, the general consensus was Wicker Park ran from Armitage to Augusta, with the same east-west parameters.
Wicker Park/Bucktown is known for being home of the Blue Line (EL), The Bloomingdale Trail (THE 606), the one of a kind Margie's Candies, a diverse neighborhood feel, unique bars, resturaunts, and night life.
The community homes are condos, single family homes, and rentals. Any type of property you can imagine fits the mold in this area. If your looking for a loft, contemporary, or traditional - you've come to the right place!