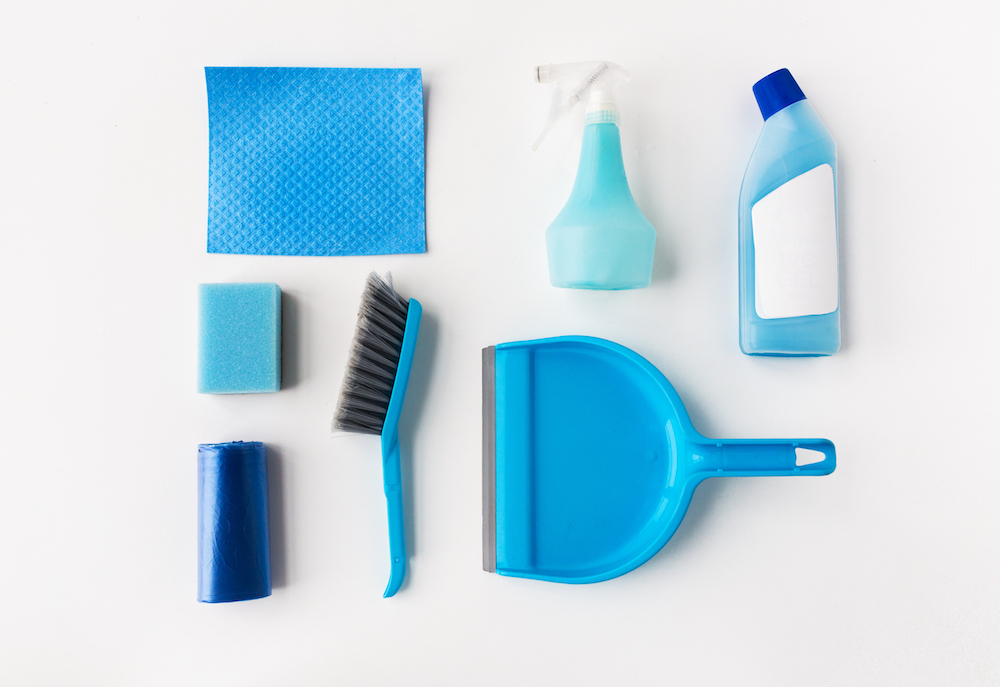 There are so many cleaning products in the market right now that it can get confusing to choose which ones are truly the best and necessary to have around your house. We've rounded up the 'holy grail' of cleaning items, as recommended by professional cleaners.
Vinegar
Vinegar is a very underrated cleaning product. It's all-natural, more environmentally-friendly than most commercial cleaners today, multi-purpose, and very inexpensive. Best of all, you probably already have it in your pantry!
Vinegar, especially white vinegar, can be used to clean shower heads, microwaves and blinds, remove tarnish, and carpet or clothing stains, and can even be used to kill weeds and keep flowers fresh.
Formula 409 Multi-Surface Cleaner
Considered a holy grail of cleaning products, Formula 409 Multi-Surface Cleaner is the ultimate cleaner, degreaser, and disinfectant for your home. Its antibacterial formula cuts through grime and grease as you wipe, killing 99.9% of all germs. It can be used on a variety of surfaces: both indoors and outdoors (such as countertops and sinks).
Bar Keepers Friend Cleanser and Polish
Bar Keepers Friend is a brand that's been around since 1882. It's famous for being effective at removing rust, metal tarnish, mineral deposits, and stains from most hard surfaces. It does not contain bleach, which makes it perfect for cleaning stainless steel items. The powder form allows versatility: create a thicker acidic paste or watery slurry, depending on your needs.
Mr. Clean Magic Eraser
Mr. Clean Magic Eraser makes it easier to clean surfaces: no need to pour cleanser on cloth when you can instantly wipe surfaces clean. The Magic Eraser is made with water-activated micro-scrubbers that reach into surface grooves and lift away dirt and grime. It can be used as a wall cleaner, bathtub cleaner, soap scum remover, oven cleaner and so much more.
Clorox Toilet Wand
Cleaning the toilet is high up on the list of everyone's least favorite chores to do, but the Clorox Toilet Wand makes it so easy. Each disposable head contains Clorox cleaner, which comes with 4x the powerful scrubbing action to clean tough stains, kill germs, remove rust, calcium, and limescale, while at the same time, disinfecting and deodorizing as it goes.
Method Squirt + Mop Hardwood Floor Cleaner
Hardwood floors look beautiful on homes, but they require a bit more care to clean so that they won't fade easily. Method Squirt + Mop Hardwood Floor Cleaner comes highly recommended. Its formula is plant-based and biodegradable, making it safe for both sealed hardwood and laminate floors. It comes in three scents but the almond scent is the most popular.
Skoy Cloth
Instead of using paper towels to wipe off surfaces, why not use cloth? Using cloth does not add to waste and can be reused. We recommend Skoy cloth, which is made of cotton and cellulose, and can replace up to 15 rolls of paper towels! It is 100% biodegradable, printed with soy ink and best of all, you can just throw it into the dishwasher to clean it!
Dawn Dish Soap
Another multipurpose item many cleaning professionals swear by, Dawn Dish Soap isn't just used for cleaning dishes but also for cleaning surfaces, such as stovetops and cabinets. This is because of its grease-stripping power which is 3x more effective than other brands.
Bissell Cleanview Upright Vacuum With OnePass
Vacuuming is another chore most people don't enjoy, but the Bissell Cleanview vacuum might make you change your mind. This lightweight, eco-friendly bagless vacuum cleaner makes it easy to carry and move around your home.
WD-40 Multi-Use Product Spray
The WD-40 Multi-use Product Spray is another must-have for the home. Among its uses include protecting metals from rust and corrosion, freeing stuck, frozen or rusted metal parts, dissolving adhesives, eliminating moisture, and removing grease and grime from most surfaces. The best part is that it does not use harmful chemicals like silicone and chlorofluorocarbons (CFCs), so it's safe to use at home.
Are you ready for a season of spring cleaning?