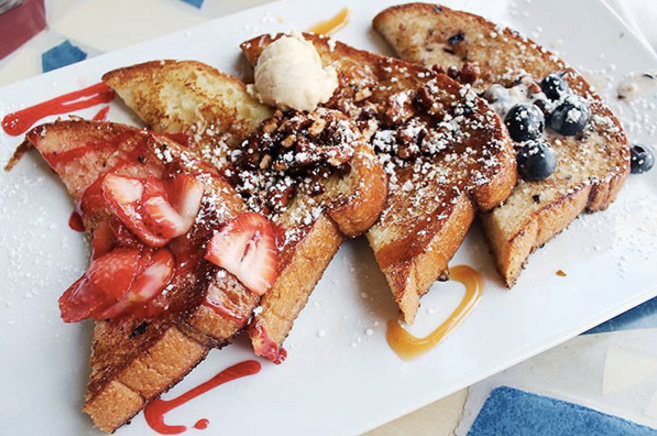 Chicago has too many amazing brunch places to include in one list, so it's smartest to tackle one neighborhood at a time. Take a quick El ride to the Lincoln Park/Lakeview area, and you'll have plenty of options to choose from that are slightly off the beaten path.
Here are the best brunches in Lincoln Park and Lakeview.
Batter & Berries
This bright neighborhood spot has a large menu of breakfast favorites with a unique spin. You can't go wrong with any of their savory omelets or egg dishes, but B&B is better known for their sweet options. To avoid the dreaded fear of missing out, order a variety of items to share with friends. Try the Cluck-N-Gaufre (chicken stuffed sweet potato waffle), Flight of French Toast sampler (pictured below), and any of the pancakes.
Toast
You may have guessed from the name, but this place is known for their on-point French toast game. Order a French Toast Orgy for the table, or yourself - it's definitely more delicious than salacious! All egg dishes also come with your choice of freshly made toast, with more options than you'd expect. Toast is also a great spot if you're looking for gluten-free items. After brunch, work off your meal with a stroll down Webster Avenue to explore some fun, local shops.
North Pond
This charming and peaceful little spot overlooks the pond near Lincoln Park Zoo. Modern American fare is made from locally-sourced ingredients. The $35 per person brunch includes your choice of a main dish, side, and dessert. Try the Whitefish and Beets, and Pear Caramel Creme-Brulee. This place is also great to host a special event. And regardless of whether you go in the winter or summer, the views are breathtaking all year long.
Bakin' & Eggs
This classic spot features a coffee and pastry counter, in addition to a full brunch menu. You can't visit Bakin' & Eggs without ordering a Flight of Bacon. The bacon sampler comes with a variety of flavors including maple pepper, jalapeno, and cherry smoked bacon bites. It's difficult to choose from all of the great frittata or breakfast sandwich options. One thing's for sure - prepare for a major brunch food coma.
Esencia Urban Kitchen
Come with an empty stomach and mix things up a bit with a delicious Mexican brunch at this family-owned cafe in Lakeview. This relatively new spot uses fresh ingredients and from-scratch recipes. Churros for breakfast? Why not. Buttermilk biscuits, breakfast tacos, chilaquiles, and enchiladas are just a sampling of their menu. Also, be sure to order a Horchata latte for a little something extra.
The Flower Flat
This cozy eatery, attached to a florist shop, serves American comfort fare and classic brunch dishes. Try the Sugar and Spice Waffles, or homemade granola. Alternatively, you definitely can't go wrong with traditional scrambled eggs that come with house potatoes, locally baked toast and fresh fruit.

Did we miss any of the best brunches in Lincoln Park and Lakeview? Leave a comment with your favorite spots!