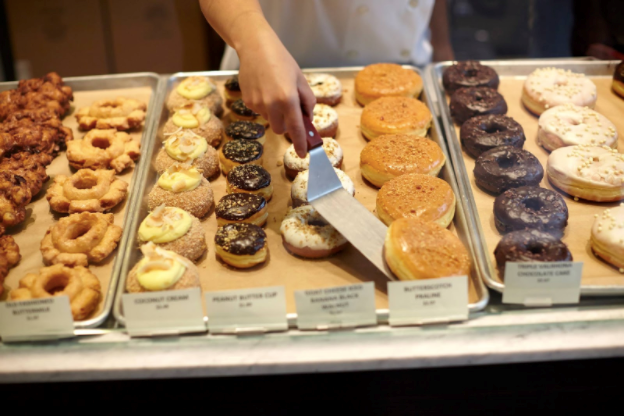 Chicago, you sure are sweet and that deserves a treat! On top of many other excellent food and drink options in Lincoln Park and Lakeview, like brunches and wine bars, these neighborhoods also boast a number of delectable breakfast pastry options.

Here are the most delicious donut/doughnut (however you spell it - you gotta love it) shops in Lincoln Park and Lakeview.

Firecakes
Firecakes serves artisanal donuts crafted from an old family recipe, as well as coffee drinks. Their unique flavors include Maple Glazed Pineapple & Bacon, Malted Milk Ball, Coconut Cream and Butterscotch Praline. Limited edition seasonal flavors are available. For bonus points, you can also order an ice cream donut sandwich!

Glazed and Infused
You can't go wrong with this Chicago classic donut chain. Handcrafted flavors include a rich Red Velvet, Sweet Tooth (covered in chocolate frosting and M&Ms) and PB&J. Chicagoans will argue over which is the best flavor, so your best bet is to try one of each and decide for yourself.

Dinkel's Bakery
The Dinkel family recipes have been around for 90+ years. Stop by this German bakery on Lincoln Ave. for a donut or any other pastry that your heart desires. Seasonal winter flavors include Pumpkin and Apple Cider.

Stan's Donuts
Luckily for Chicagoans, there are Stan's Donuts locations all around the city. One of the newer locations is in Lakeview. There's nothing typical about this donut shop in Lakeview - they offer everything from wild creations, to gluten-free options, to Nutella (and other fillings) pockets. There's something here for everyone! And if you're not feeling a donut, you can still satisfy your sweet tooth with a gelato milkshake.

Artemio's Bakery
This hole-in-the-wall spot is sure to be the best bang for your buck, but no less delicious. Artemio's is a neighborhood bakery known for their donuts and Mexican pastries. The best part is you get to serve yourself, and pile as many sweets as you can onto a tray.

La Boulangerie
Raspberry. Filled. Vanilla. Cronuts. Need more convincing? Didn't think so. This bakery and cafe is located just steps from the Belmont red line. Enjoy authentic French pastries and freshly baked bread. Stay for lunch and try an eclair for dessert.

Kitchen 17
If you've been searching for the best vegan donut in Lakeview, your hunt can come to a sweet ending at this place. The desserts are freshly made and the selection varies daily. The classic glazed donuts are killer, or opt for an iced cinnamon roll (basically a donut, in our opinion).

So many donuts, so little time. What are your favorite donut shops in Lincoln Park and Lakeview?