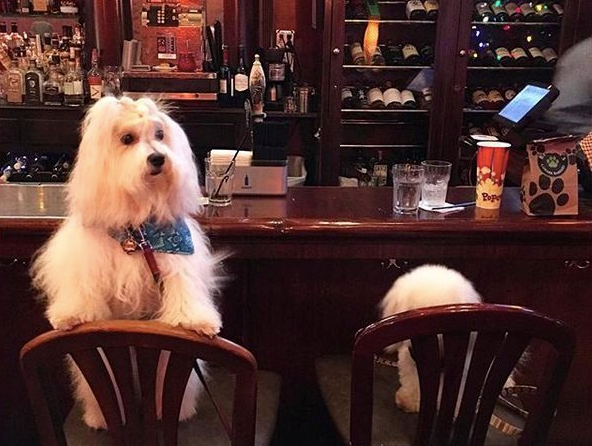 The best kind of bars are bars that let you bring along your furry best friend, so bookmark this list for later. Drinking and dogs - what could be better? Read on for some awesome dog-friendly bars in Chicago.

Clark Street Ale House
CSAE is one of the oldest bars in Chicago. They have more than 100 varieties of beers and over 300 whiskeys! Enjoy a brew in the outdoor beer garden when the weather is nice. Your canine will love the fresh air.
Archie's Iowa Rockwell Tavern
This lively neighborhood hangout features unusual decor, board games, free pool tables, and a jukebox. Bring along a group of friends and dogs for endless entertainment. The very affordable drink prices and friendly staff will keep you coming back.

Bucktown Pub
Bucktown Pub is an intimate and vintage-inspired gem with an "unpretentious" atmosphere. Snag a seat inside or on the patio and enjoy complimentary popcorn. They offer a well-curated selection of microbrews and distilled spirits. The pizza gets rave reviews too.
312 Chicago
Not only does 312 allow dogs, but they even offer a special dog-friendly food menu during certain weekends on the patio. With offerings including salmon, chicken and pasta, and "beefsicles," your dog will be the best fed in Chicago. They have an outstanding Italian menu for humans as well, in addition to a wine and beer list, and signature cocktails.
Wrightwood Tap
This spot is a favorite among Lincoln Park residents and pooches. Enjoy some rest and relaxation on comfy leather couches in front of big TVs. Dogs are allowed inside the bar as long as they're kept on a leash. A selling point for this bar is that you can keep your beer nice and cold on the ice rail at the bar. Ask about daily specials for some great drink deals. There's also a party room in the back that you can reserve. Dog-friendly Super Bowl party, anyone?

Motor Row Brewery
This bar/brewery in the South Loop is a unique space to kick back with your furry friend and sip on a freshly brewed beer. The warehouse style space has a tasting room upstairs and plenty of seating downstairs plus free board games. There's no kitchen, but you're encouraged to bring your own food and can even order delivery. Make sure to bring a snack for your dog too!

Have you been to any of these dog-friendly bars in Chicago? Leave a comment.