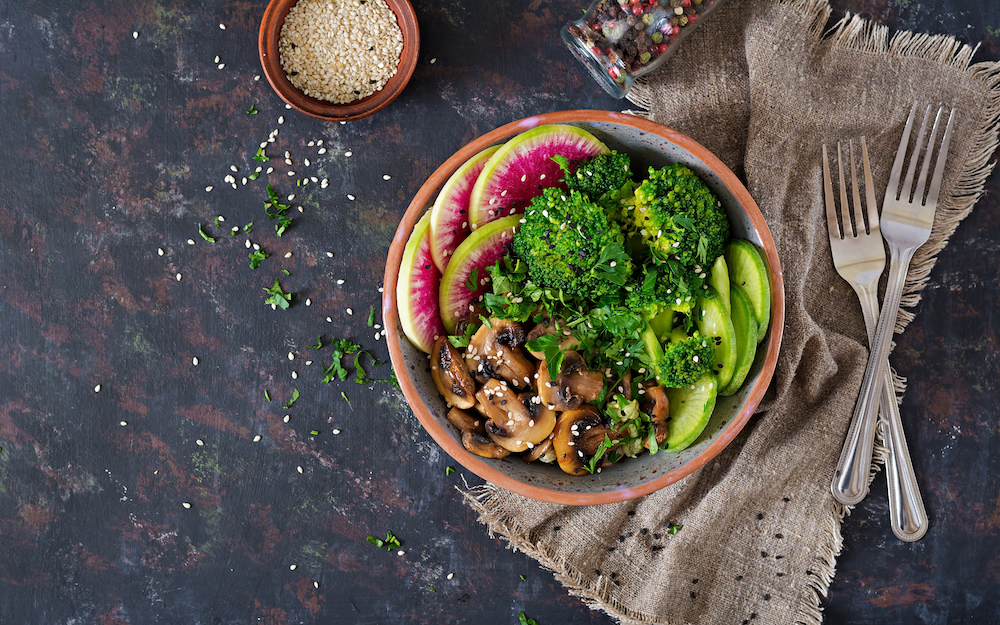 Chicago is a city best known for the deep dish pizza and hotdogs, so the assumption might be that if you're a vegan traveling to Chicago, it would be difficult to find vegan places to eat — but that's just not the case. Being one of the top foodie destinations in the country, Chicago has found creative ways to keep both their vegan and vegetarian menus regularly updated.
With offerings ranging from the legit raw and healthy unprocessed food, to vegan adaptations of our favorite comfort foods (vegan pizza, anyone?), there's something for everyone in Chicago.
Here are the 5 best vegan restaurants in Chicago:
Chicago Diner
2333 N. Milwaukee Ave
"Meat free since '83" is the motto of Chicago Diner, a permanent fixture on the list of vegan/vegetarian places in Chicago. There are two locations — the original in Lakeview, and a larger and newer branch in Logan Square — where you can get the vegan versions of your comfort food favorites such as poutine, nachos, and chili. The real star of the show is their signature Radical Reuben sandwich, which is loaded with corned beef seitan, grilled onions, peppers, sauerkraut, vegan thousand island dressing and cheese, on top of marbled rye.
Kal'ish
1313 W. Wilson Ave
While opening a vegan restaurant Uptown was probably a risk when they made the move, Kal'ish owners Andy and Gina still jumped the gun and did it anyway, and their gamble paid off. Having been practicing vegans for years, they jumped at the chance to introduce their way of eating to more people. Kal'ish, which opened in 2017, is a pure plant-based diner and their food is anything but boring. They have items that include burgers and pulled "pork" sandwiches that are all made from scratch with plant-based substitutes.
No Bones Beach Club
1943 W. North Ave
As if the name wasn't enough to clue you in, No Bones Beach Club is a 100% vegan restaurant coming to Chicago originally from Seattle. Besides serving up some vegan comfort food alternatives that include fried mac and cheese, buffalo cauliflower, and bagels, No Bones Beach Club also serves some drinks and cocktails that perfectly captures the vibe of their beach-themed Instagrammable interior.
Urban Vegan
1601 W. Montrose Ave
Thai food is usually a safe bet for vegans, and Urban Vegan in Lakeview gives you just that. Both vegans and non-vegans will enjoy Thai favorites such as chicken satay and pad thai at any time of the day, since Urban Vegan makes some of the best imitation meat you can find in Chicago. They also do deliveries!
Clever Rabbit
2015 W Division St
When vegan/vegetarian options boomed in Chicago, Clever Rabbit was Wicker Park's chic contribution. A little on the pricey side, as evidenced by their chic decor and immaculate plating, the cost is justified once you take a bite of their dishes, which are no less than generous. They offer both vegan/vegetarian options, such as carrot dumplings and broccoli plates, with vegetables grown straight from the garden. Clever Rabbit also offers some meat options on their menu, making it a great place to consider dining at when with friends with mixed preferences.
What would you add to this list of the best vegan restaurants in Chicago? I'd love to hear your thoughts in the comments!