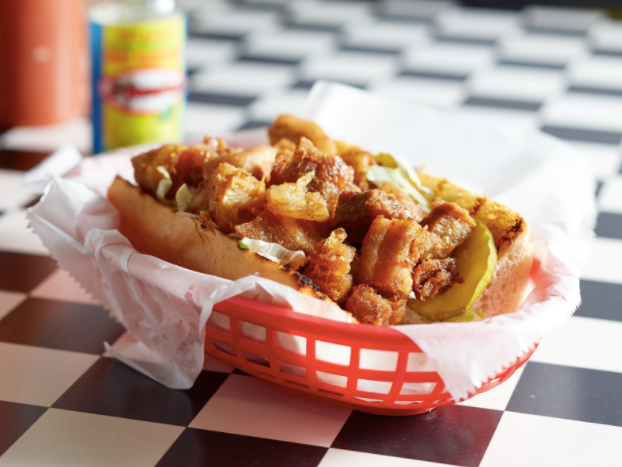 When choosing a restaurant, transportation is a huge factor to take into consideration. Restaurants located near the El make for a quicker and more budget-friendly experience.
Here are some of the best dining options right off the Brown Line, conveniently sorted by stop!
Southport Brown Line Stop

Crosby's Kitchen on North Southport Ave is a popular brunch spot known for it's American homestyle comfort food, and great rotisserie meats. This place also scores points for it's fun decor and open space. Make sure to try a dish that includes their famous rotisserie chicken and a cookie skillet for dessert!
Belmont Brown Line Stop

BIG & little's Restaurant is just steps from the Belmont Brown Line stop. This quick in and out dining spot is known for seafood tacos, burgers, and po'boys, but has plenty of delicious options for non-fish lovers too. Watch out for the Groupons they frequently for extra savings!
Wellington Brown Line Stop

Barcocina is a modern Mexican-inspired restaurant that's perfect for date night or grabbing lunch with friends. The rustic interior is awesome and there's a killer outdoor patio during the warmer months of the year. Their unique take on chips and dip is way better than your average salsa or guacamole.
Diversey Brown Line Stop
Zizi's Cafe is a popular Turkish/mediterranean spot. Everything is made fresh, including homemade salads, sandwiches, wraps, falafel, and hummus. The friendly staff is a major plus.
Sapori Trattoria is a local favorite for fantastic homemade pastas. This upscale Italian restaurant is ideal for any special occasion. Of course, you don't need a special occasion to indulge!
Fullerton Brown Line Stop

The Bourgeois Pig Cafe is a quick walk from Fullerton. This highly-rated spot has a unique atmosphere, as it's located inside an old row house. Their inventive sandwiches have fun literary names like "The Secret Garden" and "The Catcher in the Rye." Stop by to grab a quick lunch, or stay a while and study upstairs with a coffee and your favorite book.
Armitage Brown Line Stop

Cafe Ba-Ba-Reeba! is just a short walk from the Armitage stop. This Lettuce Entertain You Restaurant serves up Spanish tapas-style small plates. They get thousands of rave reviews on Zagat for their "vast menu" of "interesting", "authentic" plates, "delish" paella and "the best" sangria, all at "approachable" prices. Make sure to make a reservation before you come to ensure a good spot!
Sedgwick Brown Line Stop

Twin Anchors is a famous BBQ restaurant where Frank Sinatra used to dine frequently. This place has been around since 1932, making it one of the oldest restaurants in Chicago! According to endless reviews on Trip Advisor, their ribs are "the best ever."
Chicago Brown Line Stop

Farmhouse Chicago is a cool farm-to-table themed restaurant with all American comfort food and craft beer. It's a "sample-from-everyone's-plate" sort of place, according to a reviewer on Zagat.
If you're looking for a fancier spot to impress out of town guests, then MK is good bet. This critically acclaimed New American, contemporary restaurant is in an industrial, loft space.
Whew - that's a lot to think about! What do you think of the best dining options off the Brown Line? Is there anything you'd add to this list? We'd love to hear your opinion in the comments!